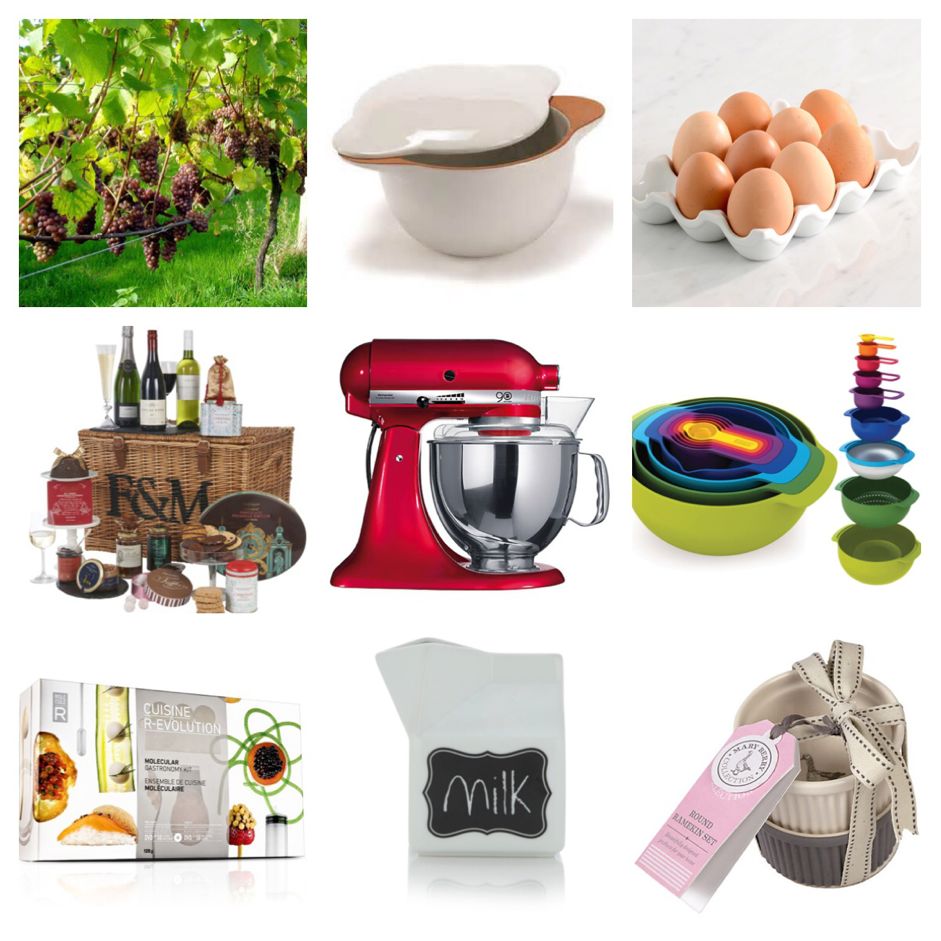 Hello! I hope you liked my Christmas gift guide for the home lover!
Today I'm going to share with you my top Christmas present picks for the foodies in your life, whatever your budget!
From left to right, top to bottom:
Rent a row of Saint Emilion Grand Cru vines, £159.97 Might as well start with the most unusual one! We've all given bottles of wines as presents a million times, but have you ever thought of giving someone a little row of their own (rented) vineyard? This unusual gift includes a gift certificate, three bottles of wine from their 2008-2010 vintages, a four-piece wine accessories set, a limited edition print, and the opportunity to visit the Chateau for a personal tour and wine tasting!
Jamie Oliver terracotta deep casserole dish, £37.50 When it comes to casserole dishes, Le Creuset isn┬┤t the only option! This simple and rustic casserole dish has a 3 litre capacity which makes it perfect for that leftover Christmas turkey pie!
ProCook porcelain egg holder, £4 A bargain at £4, this sleek egg holder is a fashion statement piece for any countertop!
Fortnum and Mason Christmas hamper, from £45 Personally, I think Fortnum & Mason do the BEST Christmas hampers! Not only are the contents always yummy, there is something so luxurious and elegant about the F&M logo on the basket, whether you go for the £45 option or the £5000 one (the one pictured here is the Classic Christmas hamper at £150).
KitchenAid Artisan mixer, from £379.99 Ahh, I honestly don┬┤t know how I used to bake with a handheld mixer! Yes, the KitchenAid Artisan mixer is expensive (I bought mine in Macy┬┤s in the US which was MUCH cheaper - I did have to buy a high performance transformer though), but it is just incredible! It comes in a range of colours to match your kitchen decor, and there┬┤s a free ice cream maker attachment offer on at John Lewis until 24th December!
Joseph Joseph Nest 9 Plus food preperation set, £44 Joseph Joseph is the daddy of stylish and innovative kitchenware. This rainbow coloured set ranges from measuring spoon to colander to non-slip mixing bowls. They all neatly stack inside each other, making it perfect even for the tiniest of kitchens!
R-Evolution molecular gastronomy cuisine kit, £44.99 Know someone who┬┤s the next Heston in the making? Get them this kit, and hopefully you┬┤ll be invited to try out one of the 50 recipes on DVD. How do "mint caviar beads that burst in the mouth, chocolate spaghetti, lemon foam or tzatziki spheres" sound?
George Home ceramic chalked milk carton, £3 Another bargain!!! This George by Asda ceramic milk carton would make a cute little addition to anyone┬┤s breakfast routine!
Mary Berry ramekins, £15 for a set of 2 If you know a Great British Bake Off fan, this lovely ramekin set from Queen Mary Berry's kitchen products range would make an ideal pressie! Just don┬┤t forget to (strongly) hint at your favourite pudding!