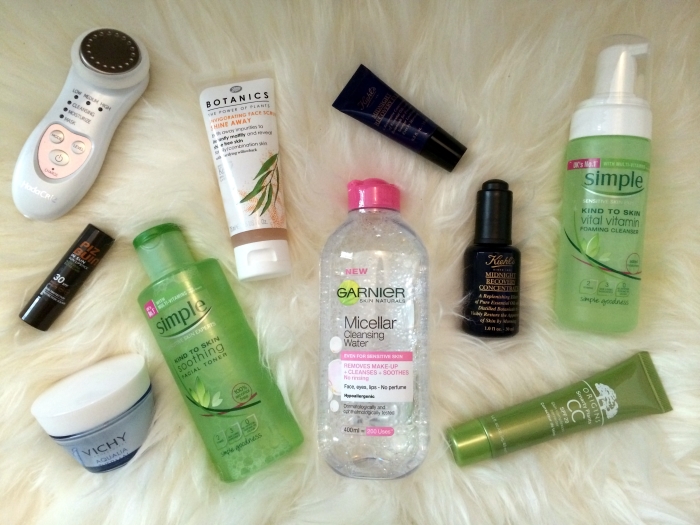 Don't worry, I'm not about to become a full-on beauty blogger!
My friends often ask me what my skincare routine is, and my answer has always been "I don't really have one!". Well, I do sort of have one, but I don't always stick to it… Ellie, look away now, I know you're reading this… I'm so lazy that I sometimes dont' even bother taking off my makeup or washing my face at night!
However, I'm proud to announce that spending a couple of weeks with my beauty junkie sister has inspired me to be kinder to my skin, and I now have a routine that I (mostly) stick to!
I suffered from Eczema as a teenager, so apart from my best friend aka hydrocortisone cream, I didn't use many products on my face. I haven't had an outbreak for years now (touch wood!), but I still like to stick to pretty simple brands and products.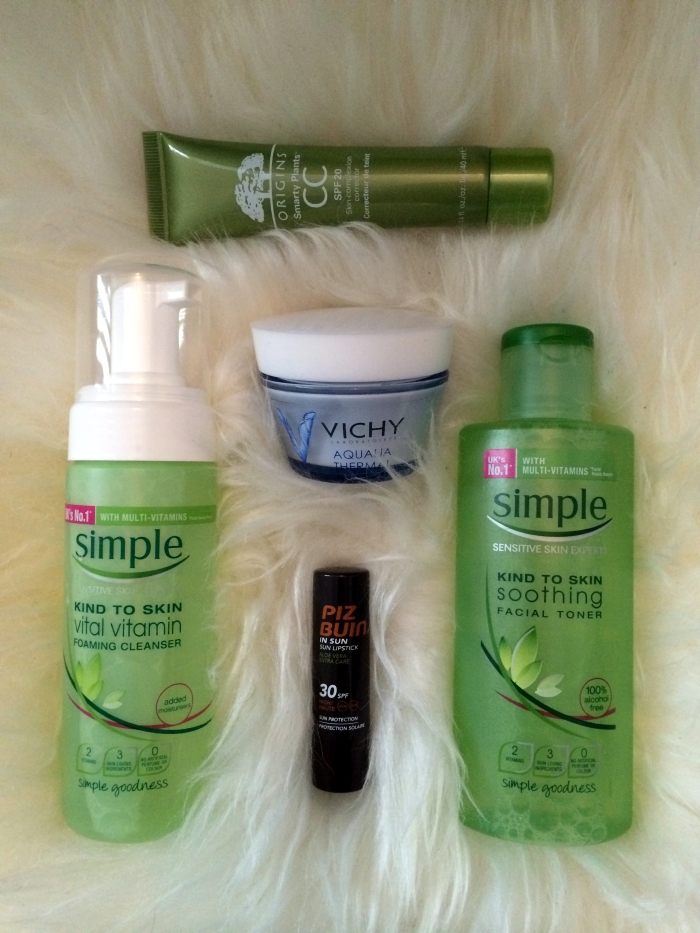 In the morning, I wash my face with this foaming cleanser from Simple, followed by facial toner from the same Kind To Skin range, and this Vichy Aqualia Thermal Light cream that my school friend introduced me to a few years ago when she worked at L'Oréal.
I know I should be using SPF everyday, but honestly, when my sun exposure during the week is limited to the 6 minute walk between my house and the train station, I think you can cut me a little slack! ;) I think I'm actually ready to try a new face cream though, so perhaps I should look for one with SPF!
Speaking of sun, I'm a huge fan of the Piz Buin Allergy sunscreen range - it's been so life-changing it deserves its own blog entry! Anyway, I recently discovered their SPF 30 lipstick, and I absolutely love it! I've been using Vaseline since forever, but this is fast becoming my favourite!
Another new fave is the Origins New Smarty Plants CC cream, which comes in two shades - light to medium and medium to deep. It's super light, gives your skin a dewy glow without the shine, and literally all you need to do is rub it in like a moisturiser!
I also try to exfoliate once or twice a week. I'm currently using Botanics' Shine Away face scrub, but I love the Black Sugar mask and scrub from the Korean brand, Skinfood!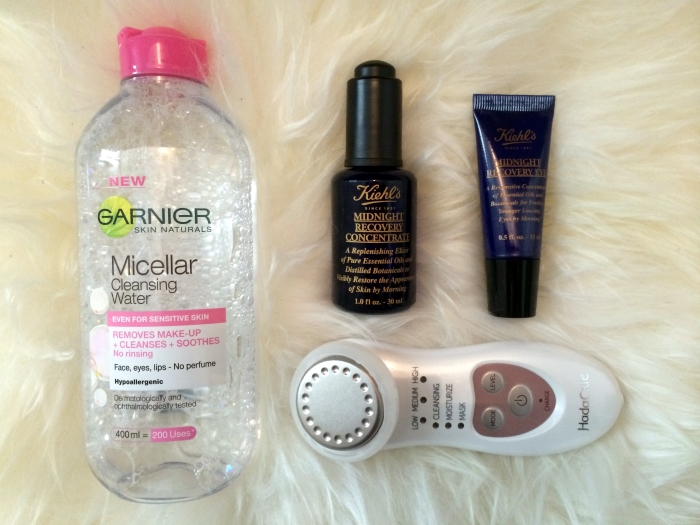 At night, depending on how lazy I feel, I either use the same Simple foam cleanser, or I just wipe my face with Garnier's micellar cleansing water. I've also been using the Hada CRiE facial cleansing and massaging tool most nights for the last month or so. I haven't yet noticed a huge difference to my skin (probably more so because I've been eating very unhealthily lately…), but I do feel like the massaging has reduced puffiness.
I then put on some Midnight Recovery Eye cream (it's the first time in my life I've used eye cream!!!), followed by the Midnight Recovery Concentrate, both from Kiehl's. I wasn't sure about using an oil at first; I thought it was going to make my normal-to-oily skin greasier. Now I'm a total convert! It's actually very light (especially since you only need a few drops) and is absorbed quickly. It has a gorgeous lavender scent, and leaves my skin feeling hydrated and silky smooth!
So what's your routine? Do you have any recommendations that I should try out? I'd love to know!