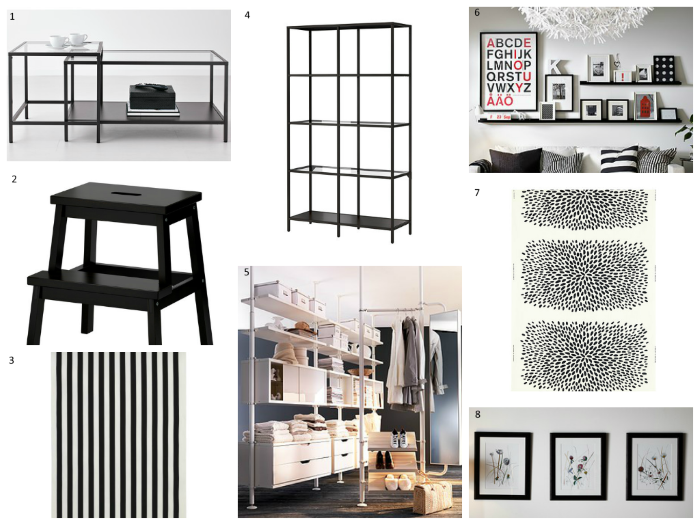 We're planning an Ikea trip next Sunday and I'm super excited (sad I know…)! I'd like to pretend that Jimbo is as excited as I am about Ikea, but bribing him with meatballs and lingonberry jam usually does the trick! ;)
I can wander around for hours, but since we only have one free weekend before our first set of guests arrive at the bombsite, I mean, house, I need a plan of attack.
Top of my list is probably the STOLMEN storage system (5) for our newly built walk-in-and-out wardrobe / dressing area. We've been struggling to find a traditional wardrobe that we like (that doesn't cost thousands), and since we (mainly I) have so much stuff, the STOLMEN is going to perfect as it's based on adjustable floor-to-ceiling poles, which means we can utilise the full ceiling height.
Next on the list are a VITTSJÖ coffee table (1) and shelving units (4) for the living room, but I'm going to spruce them up a little bit, so watch this space!
Once the necessities are out of the way, I want to decorate the house with photos and artwork. I can't tell you how excited I am that we can finally put nails in the walls without having to worry about angry landlords! I might just end up buying their entire stock of RIBBA picture ledges and frames (6) and VIRSERUM frames (8) (and I'm not joking…)!
Ikea also does some really lovely fabrics. You wouldn't believe how difficult it is to find a nice, cotton, black and white striped fabric that's got stripes of a sensible width! After searching high and low, I finally found this Sofia broad-striped fabric (3), and at £6 a metre, it's a steal! I also came across this TR├àDKL├ûVER fabric (7) that's so pretty and comtemporary. I haven't quite figured out what exactly I'd do with it yet. Maybe some artwork, or I suppose if in doubt, cushion covers.
Oh, I forgot about this true necessity, the BEKVÄM step ladder stool (2) for the kitchen coz the stupid cabinet doors open upwards and I can't reach once they are fully open to close them again, grr!