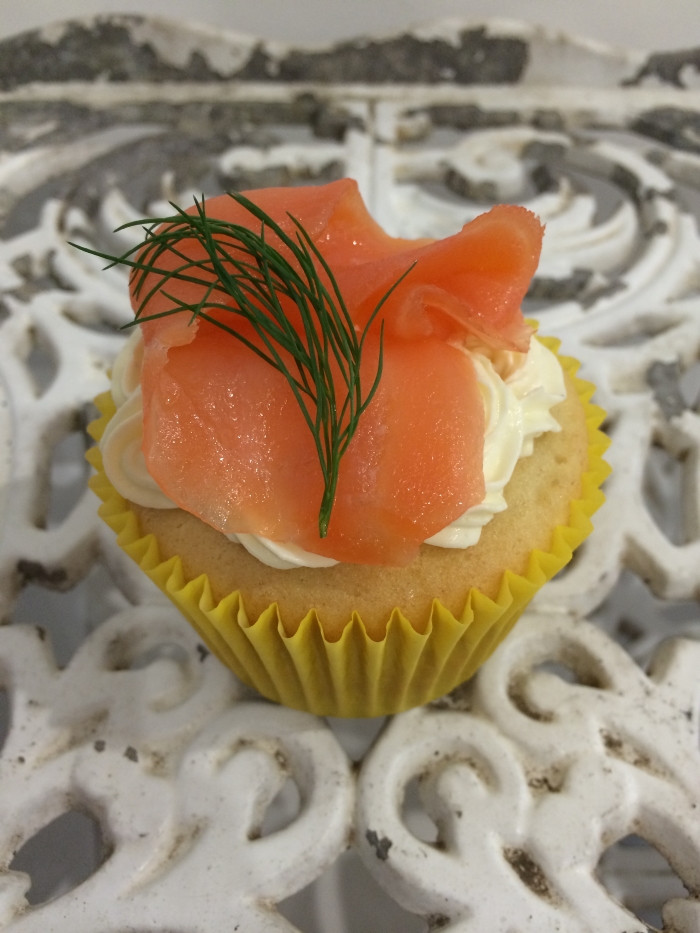 I love mixing sweet with savoury. The inspiration for this cupcake is an old canape classic - smoked salmon blinis. The sponge is slighty sweet, which perfectly complements the smokey salmon, salty cream cheese and garlicky aioli!
Let me know how you get on and leave me a message on my Facebook page if you would like me to share more savoury cupcake recipes on the blog! x
Ingredients
Makes 10-12 135g plain flour 85g caster sugar 1.5 tsp baking powder A (big) pinch of salt 40g unsalted butter, at room temperature 120mL milk, at room temperature 1 egg 100g smoked salmon (cut into strips or bits) 200g Philadelphia cream cheese 1 tsp aioli A bunch of dill Salt and pepper to taste
Method
1) Preheat the oven to 180C (or 160C fan). Line a 12-hole muffin tin with paper cases.
2) Beat all the dry ingredients (flour, sugar, baking powder, salt) and the butter on low speed until everything is combined.
3) Whisk the milk and egg, then pour into the flour mixture gradually. Continue beating on a medium speed until the mixture is smooth.
4) Spoon the mixture into the paper cases until two-thirds full.
5) Bake in the preheated oven for 20 minutes, or until golden. A skewer inserted into the centre should come out clean.
6) Leave the cupcakes to cool slightly in the tray and then move onto a cooling rack to cool completely.
7) Gently beat the cream cheese and aioli using a spoon until soft. Add salt and pepper to taste.
8) Pipe or spread the cream cheese mixture onto the cupcakes. Garnish with smoked salmon and dill.
My top tip!
It's key to bake with butter, milk and egg at room temperature. If your ingredients are cold, your batter will not come togther smoothly, and the resultant mixture will not trap enough air to make the sponge light and fluffy.
If you forget to leave your butter out of the fridge, cut it into small cubes and warm in the microwave for a few seconds at a time until it's soft. Be careful not to completely melt it though!