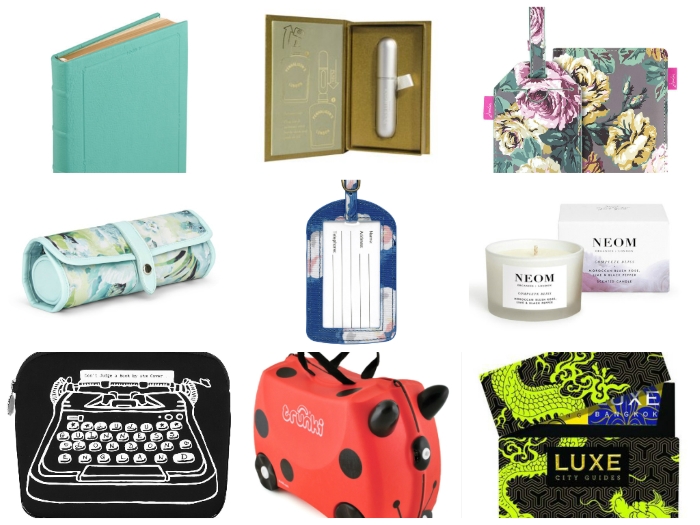 Having just come back from holiday, I thought I'd share with you next some Christmas present ideas for those who love to travel! If you missed my gift guides for the home lovers and foodies, you can catch up here and here.
Again, from left to right, top to bottom:
Fortnum and Mason hard cover journal, £80 I swear Fortnum and Mason does a world travel journal, but I can't find it online… this journal is still beautiful though for anyone who likes to keep a travel diary!
Penhaligons travel atomiser, £14.40 Remember my my top 5 travel tips? This perfume atomiser is perfect for those hand luggage-only weekend trips!
Joules Praline travel cover set, £19.95 With this cute and eye-catching luggage tag and passport cover set, you wouldn't have to worry about not being able to spot your suitcase on the conveyor belt!
Laura Ashley jewellery roll, £14.40 No more tangled mess, whoop whoop!
Cath Kidston mini clouds luggage tag, £5 Yes, another luggage tag… but it's so cute!!!
Neom travel scented candle, £16 I talked about Dyptique and Jo Malone candles in my home lover gift guide, but Neom is another favourite of mine. I'd recommend Tranquility - an English lavender, sweet basil and jasmine blend - for anyone who struggles to sleep in strange hotel beds or suffers from jet lag!
Lulu Guinness vintage iPad sleeve, £39 Stylish yet practical, the only negative for (the OCD) me is that it doesn't have QWERTY keys!
Trunki ladybird luggage for kids, £39.99 Perfect for any parent travelling with kids. Little ones can keep their teddies, crayons and sticker books in one place, and the parents can keep the little ones in tow!
<a href="http://www.waterstones.com/waterstonesweb/search/luxe-city-guides/luxe+city+guides/0/0%5E4290174956/ target="_blank">Luxe city guides</a>, from £4.99 With these city guides, your globetrotter friends will be able to "do as the locals do" in the coolest cities around the world!